I had been familiar with the sight of Rahiman. He was 78, and he was on a cycle whenever I saw him in town. Mostly, he'd be going around selling his own books. Books on travel that were locally published, with almost nothing to catch one's eye. But in these books were the most extraordinary tales; tales about cycling around the world, stories of far off countries and people there. And all of these were his own experiences!
When Sathyan Anthikad, one of the most celebrated filmmakers of Kerala mentioned Rahiman and his travels in a conversation, I felt myself longing to know about him. Especially having been in the same town as him.
Yatra. Meaning travel. That was the name of his home. I asked him his story. And he narrated it in detail.
It was too sensational to be true. He was well educated. A Masters in economics, diplomas in journalism and social work. All these from prominent colleges in Kochi. But it didn't help him with jobs. Having worked on multiple teaching jobs and even a Government post in and around Kochi, he had to at last resort to the dreamer's city Mumbai for a living, having to leave behind his wife and two children back home. Mumbai didn't help either; he had to do jobs outside his teaching skills, but life didn't get stable.
This pursuit led him to the Gulf, and then to Africa over the years. He reached Kenya, having been told by a job consultant about possible teaching vacancies at Nairobi. That too did not materialise, because his visit was untimely. He even ended up in jail for a few days, for failing to have a job visa. Fearing the embarrassment of returning home empty handed, he stayed back in Kenya, hoping things would change.
And it did. Once, while spending time at an Indian restaurant, he came across Mohankumar, a cyclist from Andhra Pradesh, who was pedalling around the world on his cycle. In fact, his cycle had been stolen at Nairobi. They ended up talking, exchanging life stories. Then, Mohankumar suggested that Rahiman should join him in his travel, and that cycling through countries will welcome financial support from all around as well. It was a life-changing moment for Rahiman, who agreed, hoping the decision would change things for better.
The two set off – having procured a couple of cycles and a little money from friends in Nairobi. The journey went far and wide. Uganda, Ethiopia, Egypt… A world of marvel was opening up for Rahiman; he had never imagined he'd cycle through Cairo or visit the Pyramids. But the two cyclists parted ways there, owing to dissimilar interests. He had cordially split from his mentor, but now had the whole world to explore.
Indeed, help came wherever he cycled to. He collected them, dreaming of building a home back in Kerala. At times, he had to depend on flights, ships and vehicles to transport him and the cycle. But the pedalling went on.
Next came Europe. Greece, followed by Italy. He cycled to Vatican, where – from among a huge crowd – he saw the Pope waving hands towards him. Switzerland and France too got covered. When his bags got stolen and was stranded without money, we was flown back home by the Indian embassy, on the condition that he paid for the ticket once home!
He was home, but was smitten by travelling. His family was made to believe that he worked for a travel agency, and required frequenting to places. Soon he was in Pakistan. Then Turkey, which reminded him of his hometown Muziris. He covered the whole Gulf; even performed umrah at the Mecca. He then went East, covering Bangladesh, Thailand, Malaysia, Singapore, Indonesia and finally Australia. Throughout the journey, he met people who were happy to help his purpose. They fuelled me, he said. America, Fiji and England were to follow.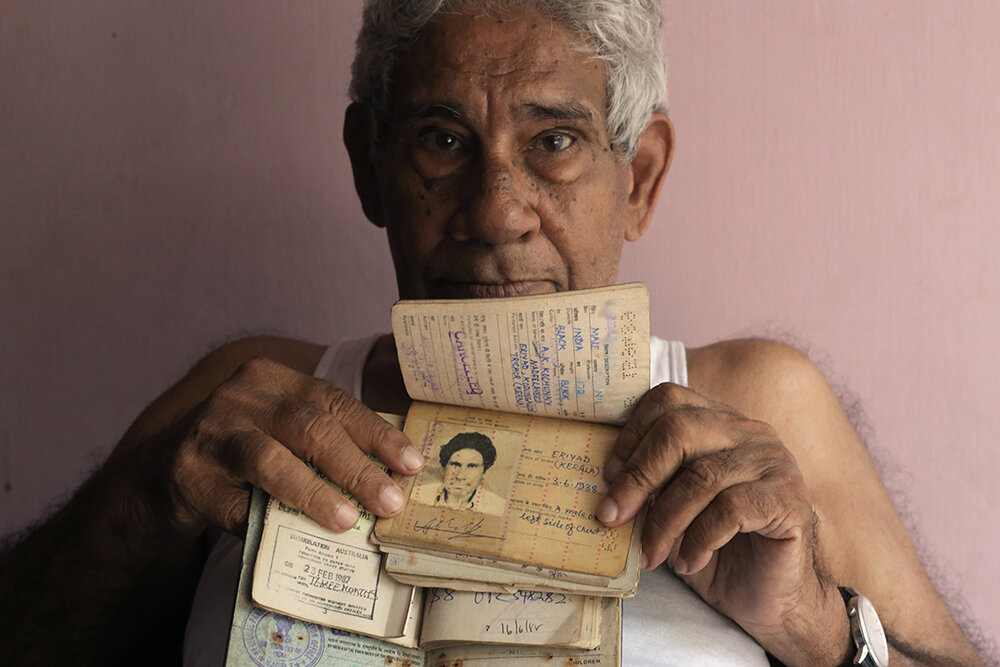 The home was built, and with an apt name. It all sounded incredible to me. Perhaps sensing my bewilderment, he got up and retrieved an old package. He said he was unsure what was inside it, for it had been set aside for more than twenty years! And right in front of my eyes, he opened it. The package had his old passports, rich with stampings from countries around the world. Then there were newspaper clippings, regional ones from various cities that had mentioned about him. There were also embassy-certified letters that he had collected from around the world. And I stood there, wondering about my luck to see these uncover, one by one.
He had grown old, but his memories were still fresh, with seamless energy.