That Girl From Kalighat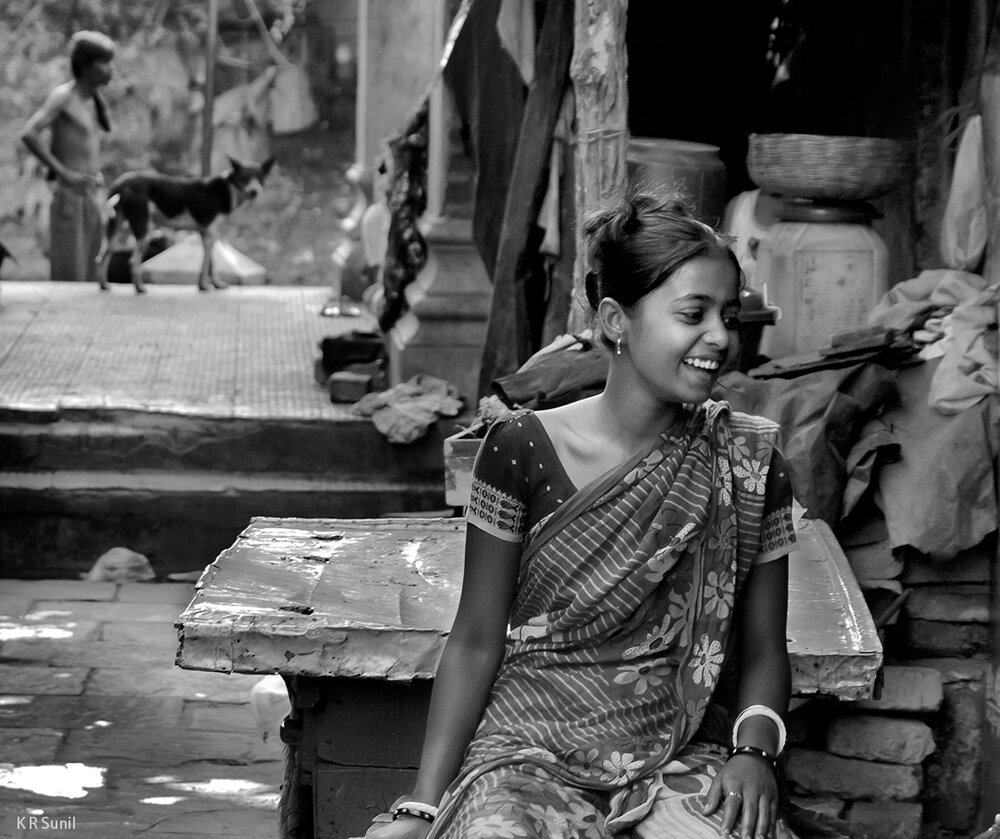 Kolkata always reminded me of old black-and-white movies. With its bare and faded structures, rickshaws pulled by hands, the streets that served tea on terracotta cups, the trams that rattled along its path…
Kalighat was where our pursuit for photographs ended. The place was uncharacteristic from the other temples around, lacking the usual calm one would expect at a divine centre. There were workers removing the carcass of an animal sacrificed to appease Goddess Kali – reminiscent to the by-gone tradition of laying human lives instead. Then there were the devotees from all parts around, rushing through the compound.
Beyond the line of old, rusty buildings, the slim river Adi Ganga glided forward, burdened by the city's garbage. And ahead of it was the alternate facade of Kolkata – the Red-light Street.
By the riverside, outside a typically ordinary house, sat a girl. She instantly reminded me of faces seen in Bengali movies. As I readied my camera with an inherent apprehension, her face had the composure of having faced countless cameras…
If I drew a line from the temple to the Red-light Street, she was right at the centre of it.
Life. Cycle
I had been familiar with the sight of Rahiman. He was 78, and he was on a cycle whenever I saw him in town. Mostly, he'd be going around selling his own books. Books on travel that were locally published, with almost nothing to catch one's eye. But in these books were the most extraordinary tales; tales about cycling around the world, stories of far off countries and people there. And all of these were his own experiences!
When Sathyan Anthikad, one of the most celebrated filmmakers of Kerala mentioned Rahiman and his travels in a conversation, I felt myself longing to know about him. Especially having been in the same town as him.
Yatra. Meaning travel. That was the name of his home. I asked him his story. And he narrated it in detail.
It was too sensational to be true. He was well educated. A Masters in economics, diplomas in journalism and social work. All these from prominent colleges in Kochi. But it didn't help him with jobs. Having worked on multiple teaching jobs and even a Government post in and around Kochi, he had to at last resort to the dreamer's city Mumbai for a living, having to leave behind his wife and two children back home. Mumbai didn't help either; he had to do jobs outside his teaching skills, but life didn't get stable.
This pursuit led him to the Gulf, and then to Africa over the years. He reached Kenya, having been told by a job consultant about possible teaching vacancies at Nairobi. That too did not materialise, because his visit was untimely. He even ended up in jail for a few days, for failing to have a job visa. Fearing the embarrassment of returning home empty handed, he stayed back in Kenya, hoping things would change.
And it did. Once, while spending time at an Indian restaurant, he came across Mohankumar, a cyclist from Andhra Pradesh, who was pedalling around the world on his cycle. In fact, his cycle had been stolen at Nairobi. They ended up talking, exchanging life stories. Then, Mohankumar suggested that Rahiman should join him in his travel, and that cycling through countries will welcome financial support from all around as well. It was a life-changing moment for Rahiman, who agreed, hoping the decision would change things for better.
The two set off – having procured a couple of cycles and a little money from friends in Nairobi. The journey went far and wide. Uganda, Ethiopia, Egypt… A world of marvel was opening up for Rahiman; he had never imagined he'd cycle through Cairo or visit the Pyramids. But the two cyclists parted ways there, owing to dissimilar interests. He had cordially split from his mentor, but now had the whole world to explore.
Indeed, help came wherever he cycled to. He collected them, dreaming of building a home back in Kerala. At times, he had to depend on flights, ships and vehicles to transport him and the cycle. But the pedalling went on.
Next came Europe. Greece, followed by Italy. He cycled to Vatican, where – from among a huge crowd – he saw the Pope waving hands towards him. Switzerland and France too got covered. When his bags got stolen and was stranded without money, we was flown back home by the Indian embassy, on the condition that he paid for the ticket once home!
He was home, but was smitten by travelling. His family was made to believe that he worked for a travel agency, and required frequenting to places. Soon he was in Pakistan. Then Turkey, which reminded him of his hometown Muziris. He covered the whole Gulf; even performed umrah at the Mecca. He then went East, covering Bangladesh, Thailand, Malaysia, Singapore, Indonesia and finally Australia. Throughout the journey, he met people who were happy to help his purpose. They fuelled me, he said. America, Fiji and England were to follow.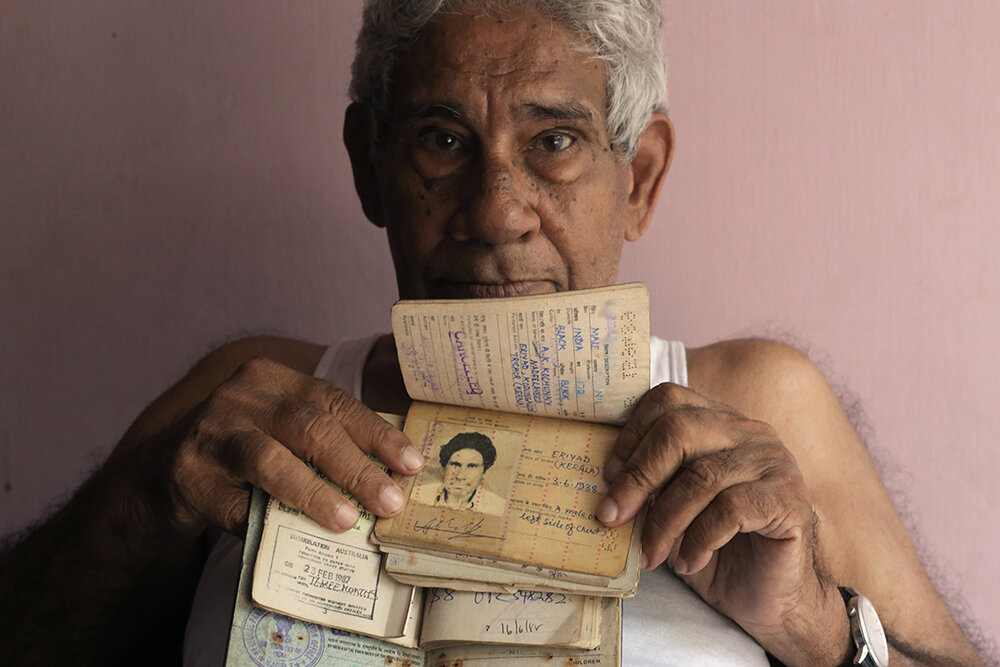 The home was built, and with an apt name. It all sounded incredible to me. Perhaps sensing my bewilderment, he got up and retrieved an old package. He said he was unsure what was inside it, for it had been set aside for more than twenty years! And right in front of my eyes, he opened it. The package had his old passports, rich with stampings from countries around the world. Then there were newspaper clippings, regional ones from various cities that had mentioned about him. There were also embassy-certified letters that he had collected from around the world. And I stood there, wondering about my luck to see these uncover, one by one.
He had grown old, but his memories were still fresh, with seamless energy.
A Photo by God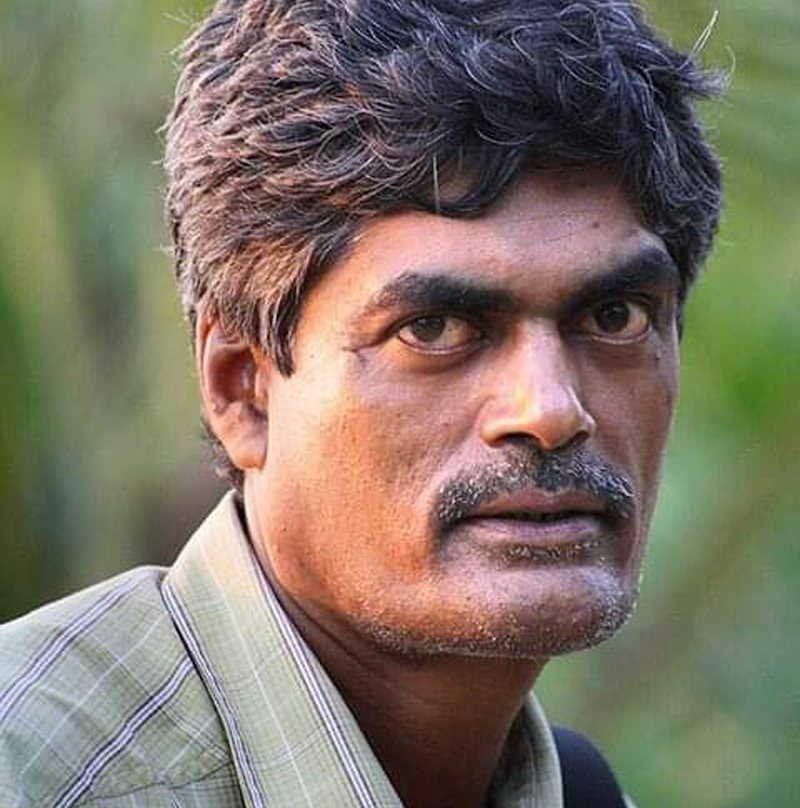 Long back, while a fine arts student, I used to roam around with a camera in bag. A shaky one, which would often stop working. And so, I was in good rapport with all the repairmen in the town. Once on such a visit to a shop, a stunning photograph on the wall caught my attention! A bull raging into a scattering crowd; one of its horns had already pierced deep into a man's hand. And it was the moment just before he had realised it! As I kept staring at it, the repairman said, "The photographer is from your place. K J Vincent. He's brilliant."
And later while browsing old magazines in a second-hand bookstall, I came across the photo once again. It was captioned, 'A photo by God'! K J Vincent's name popped up again for me, this time among the winners' names of a photography contest on farming.
Once there was a gathering of the biggest writers in Malayalam, in the open space outside the Sahitya Academy Hall. The crowd was huge and photographers struggled to capture what they fancied. And then I saw someone climbing up a tree nearby. From there he photographed comfortably and got down. I told to a friend who was beside me, "K J Vincent. He's from my town." When I met him in person, he was a grounded person and quite friendly. He spoke mostly about Jallikattu – Tamil Nadu's annual bull-versus-man tradition. He also narrated his travels to me. He was someone who valued friendship quite a lot, I realised soon.
That year as Jallikattu approached, I let him know of my wish to photograph it. He readily agreed to take me along and asked me to meet him at the Thrissur bus stand the very next evening. The moment he said this, I started to picture the whole thing in my head. I kept mentioning it to my friends, some of whom bought me camera rolls.
I was early to the bus stand, all set to get clicking. He had said 7PM. Half an hour passed and he hadn't appeared. Then I tried calling a few friends; he never carried a phone. Time and Madurai buses passed along. I started getting anxious. I had never been to Madurai either; Jallikattu was farther from the city as well. Neither did I know Tamil.
I hopefully searched every face that entered the bus stand, but in vain. I was losing hope; it'd be embarrassing to return home as well. It was half past nine. A dusty bus to Madurai stood waiting. It'd be there for another 10 minutes. I scanned the surroundings once again. Then I spotted another guy a little away, holding a camera bag. A complete stranger, but he seemed more anxious than me, clearly on the lookout for someone. Trusting my intuition, I approached and asked if he was waiting for the same person as I was. Indeed he was. He was Nasaru, from Payyannurkulam. He too was part of the plan, and now we both were stranded. We talked for a while, expressing the mutual state of disappointment. The final bus to Madurai was about to leave. At least we were in company of each other. "Shall we go?" I asked. Madurai was cold when we got down in the morning. Somehow we managed to reach Palamedu, where Jallikatu was happening that day. Throughout the journey, we could see bulls – decorated and readied, being walked or else being transported by the villagers. It was a festive air, with horn speakers playing vintage movie songs out loud.
The field were Jallikattu was taking place was swarming with people. We squeezed into the temporary gallery set up for the audience. And when the bulls were let free, I stood watching the spectacle, momentarily forgetting my camera. Then regaining purpose, I captured photos. By evening, drained out, we reached back to our room. That's when I received a call from an unknown number. It was Vincent. He had got stuck with some other friend circle the previous day, but now he had reached Madurai! And we met; it was 7PM once again, only that it was at Madurai bus stand…
Next day, we were at Alanganallur for the Jallikattu. The place thronged with photographers of both states – Tamil Nadu and Kerala. And all of them were in deep admiration for Vincent. While they carried fancy cameras, Vincent had an ordinary one. The ordinary one through which the world had seen extraordinary moments of Jalikkattu!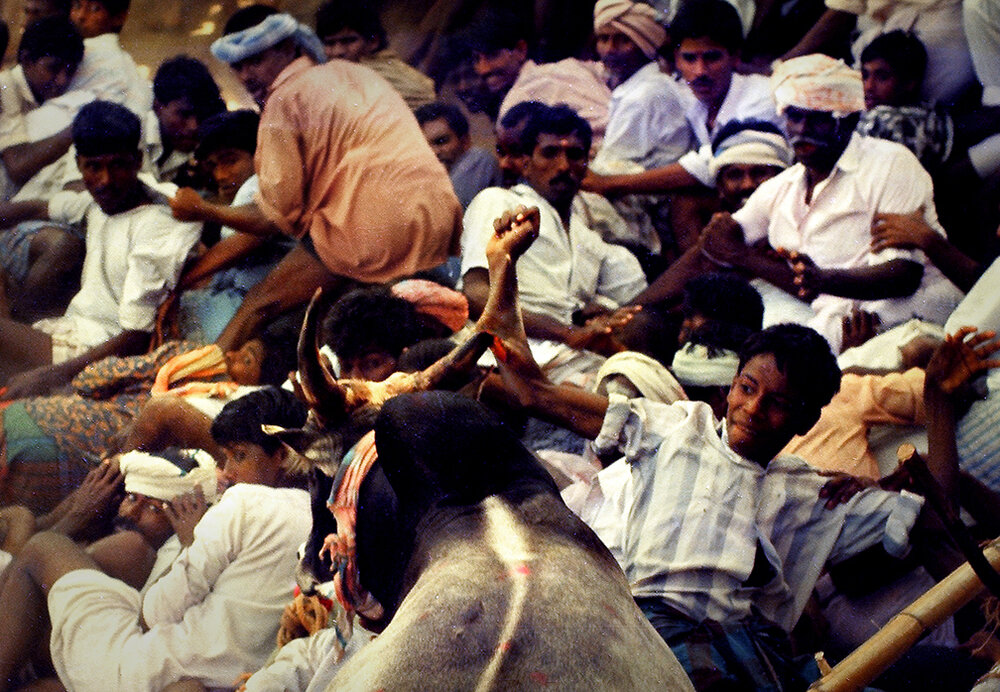 Yesterday, after many years, Nasaru had called. We revisited our journey, discussed the current court orders on Jallikattu, and yes, we talked about Vincent. About his untimely demise. He had been hit by a train, while photographing the famous Uthralikavu temple fair, standing on the rail. He was doing the thing that he most cherished, even in the final moments of life. My mind raced to the bus stand once again. The dusty bus to Madurai was waiting…