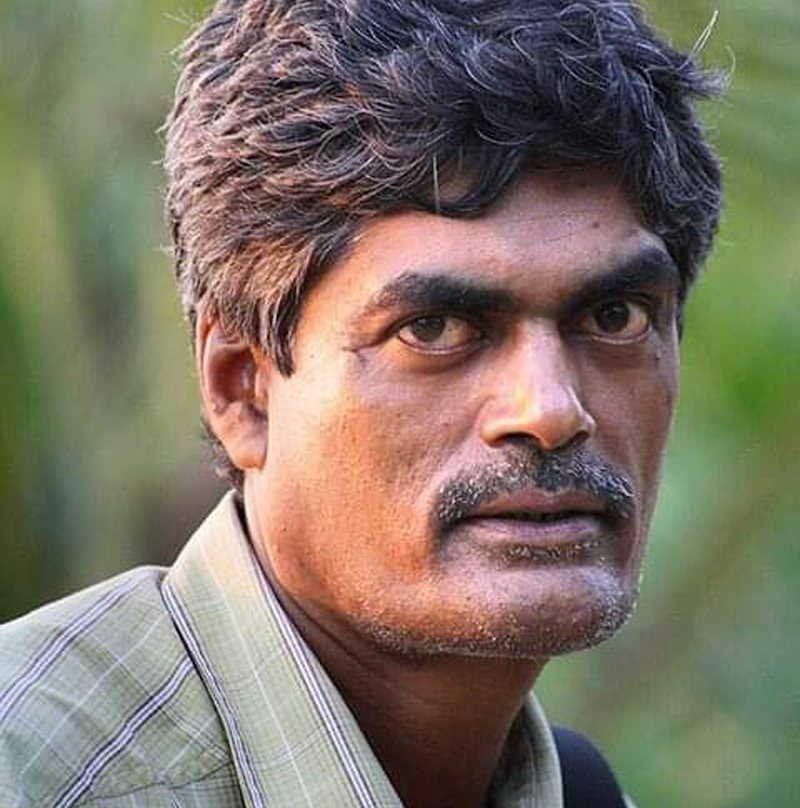 Long back, while a fine arts student, I used to roam around with a camera in bag. A shaky one, which would often stop working. And so, I was in good rapport with all the repairmen in the town. Once on such a visit to a shop, a stunning photograph on the wall caught my attention! A bull raging into a scattering crowd; one of its horns had already pierced deep into a man's hand. And it was the moment just before he had realised it! As I kept staring at it, the repairman said, "The photographer is from your place. K J Vincent. He's brilliant."
And later while browsing old magazines in a second-hand bookstall, I came across the photo once again. It was captioned, 'A photo by God'! K J Vincent's name popped up again for me, this time among the winners' names of a photography contest on farming.
Once there was a gathering of the biggest writers in Malayalam, in the open space outside the Sahitya Academy Hall. The crowd was huge and photographers struggled to capture what they fancied. And then I saw someone climbing up a tree nearby. From there he photographed comfortably and got down. I told to a friend who was beside me, "K J Vincent. He's from my town." When I met him in person, he was a grounded person and quite friendly. He spoke mostly about Jallikattu – Tamil Nadu's annual bull-versus-man tradition. He also narrated his travels to me. He was someone who valued friendship quite a lot, I realised soon.
That year as Jallikattu approached, I let him know of my wish to photograph it. He readily agreed to take me along and asked me to meet him at the Thrissur bus stand the very next evening. The moment he said this, I started to picture the whole thing in my head. I kept mentioning it to my friends, some of whom bought me camera rolls.
I was early to the bus stand, all set to get clicking. He had said 7PM. Half an hour passed and he hadn't appeared. Then I tried calling a few friends; he never carried a phone. Time and Madurai buses passed along. I started getting anxious. I had never been to Madurai either; Jallikattu was farther from the city as well. Neither did I know Tamil.
I hopefully searched every face that entered the bus stand, but in vain. I was losing hope; it'd be embarrassing to return home as well. It was half past nine. A dusty bus to Madurai stood waiting. It'd be there for another 10 minutes. I scanned the surroundings once again. Then I spotted another guy a little away, holding a camera bag. A complete stranger, but he seemed more anxious than me, clearly on the lookout for someone. Trusting my intuition, I approached and asked if he was waiting for the same person as I was. Indeed he was. He was Nasaru, from Payyannurkulam. He too was part of the plan, and now we both were stranded. We talked for a while, expressing the mutual state of disappointment. The final bus to Madurai was about to leave. At least we were in company of each other. "Shall we go?" I asked. Madurai was cold when we got down in the morning. Somehow we managed to reach Palamedu, where Jallikatu was happening that day. Throughout the journey, we could see bulls – decorated and readied, being walked or else being transported by the villagers. It was a festive air, with horn speakers playing vintage movie songs out loud.
The field were Jallikattu was taking place was swarming with people. We squeezed into the temporary gallery set up for the audience. And when the bulls were let free, I stood watching the spectacle, momentarily forgetting my camera. Then regaining purpose, I captured photos. By evening, drained out, we reached back to our room. That's when I received a call from an unknown number. It was Vincent. He had got stuck with some other friend circle the previous day, but now he had reached Madurai! And we met; it was 7PM once again, only that it was at Madurai bus stand…
Next day, we were at Alanganallur for the Jallikattu. The place thronged with photographers of both states – Tamil Nadu and Kerala. And all of them were in deep admiration for Vincent. While they carried fancy cameras, Vincent had an ordinary one. The ordinary one through which the world had seen extraordinary moments of Jalikkattu!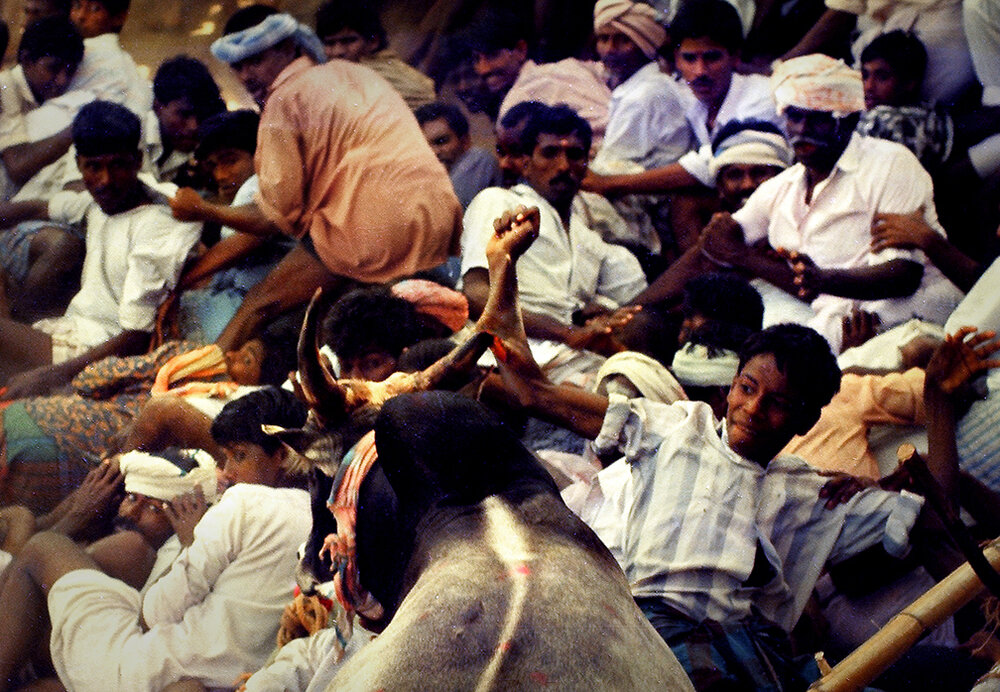 Yesterday, after many years, Nasaru had called. We revisited our journey, discussed the current court orders on Jallikattu, and yes, we talked about Vincent. About his untimely demise. He had been hit by a train, while photographing the famous Uthralikavu temple fair, standing on the rail. He was doing the thing that he most cherished, even in the final moments of life. My mind raced to the bus stand once again. The dusty bus to Madurai was waiting…